Quite possibly the finest golf club cleaner ever made
Introducing the new Mini G!
A smaller version of the brush you love with the same great magnetic securing system and stiff nylon bristles, just without water….and mini!
Patented pump-action sprays water or your choice of cleaning solution onto the clubface prior to scrubbing
The option to use a liquid to help clean what you are scrubbing is a game-changer
Extremely easy to refill on the go, around the course or driving range
Detachable magnet allows ultimate mobility while using the brush
Eliminates the need for a clip or lanyard that will wear out or get caught in the golf bag zipper or towel
Magnets will work for the lifetime of the brush
Tough, durable scrubbing brush with a 3 year bristle guarantee. If you can wear out the brush head cleaning golf clubs in three years, send it back and we will get you a free replacement!
Ergonomic designed pistol grip, knurled finish.
Strong, rugged, and durable design that will deeply clean clubs
Ensures maximum backspin, distance and accuracy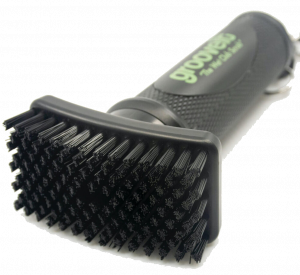 Prepare to be amazed with the consistency and control that clean groove will give you. Using your existing golf clubs, Grooveit will give you the spin, trajectory, and consistency you're looking for.
We believe in our product so much that we will guarantee your brush head for a period of 3 years. If, during that time, the brush bristles become worn out, simply return it, and we will replace it free of charge.
Hit 'em straight. Keep 'em clean. We know grooves!
- Clint Sanderson; Inventor/Owner